Skip Navigation
Website Accessibility
TRBMB: The Retreat Bag 2.0
Join Marilyn along with other sewing enthusiasts and create an amazing bag for yourself. A make-up bag, sewing bag, swap bag - or just a bag perfect for any sewing retreat. This bag is easy to make and holds a lot of goodies! The frame on this bag creates an opening that stays open no matter what, making it both handy and professional-looking. Create either a large or small bag. The choice is yours! This bag would also make a perfect homemade gift!! The pattern for this bag is free and can be downloaded from the following link
The Retreat Bag 2.0 Pattern
. A printed pattern can be purchased from A Clean Stitch for $3.00 if desired. Please come in prior to class to get your supplies and instruction sheet. **Participants must cut, fuse, and quilt bags prior to class allowing class time to be focused on the bag construction
Minumum number of students for this class is 3.
**Disclaimer: Class will be canceled with a full refund 1 week prior to class if the minimum number of students is not met. Students may cancel up to 1 week prior to class with a full refund. Any cancelations after 1 week prior to class will NOT be refunded.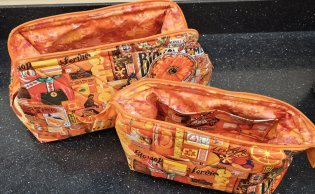 Skill Details:
All skill levels are welcome!
Materials Included:
Flex foam, interfacing and wire stays
Requirements:
Supply List: A sewing machine in good working order (always bring the machine instruction book), threads to match your project, wonder clips, marking pencils that will show on your fabric, pins, ruler, rotary cutter, scissors, and anything else you think you might need. The pattern (can be downloaded. See link above) or purchased for $3 from A Clean Stitch. Interfacing, foam, and wireframes are included in the class price. Fabric requirements are as follows. For the Large bag you need: 1/2 yard for the exterior, and 3/4 yard for lining. For the small bag, you need 1 Fat Quarter for the exterior and 1/2 yard for the lining. Please come in prior to class to get your kit. You need enough time to pre-cut, fuse, and quilt your bag.
Instructor Name:
Marilyn burton
TRBMB: The Retreat Bag 2.0
Cost:
$ 54.00
Includes a kit with interfacing, flex-foam and wire stays ($19.00 value)
| | |
| --- | --- |
| TRBMB: | Tue, Dec 12, 2023 at 9:30 am to 5:00 pm |
| | |
| | Attendee Name: |
| | |